Need for Speed: The Run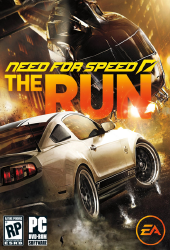 Minimum:
OS
: Windows Vista
DirectX
: 10
Processor
: 3GHz (Duel Core)
RAM
: 3GB
Hard Drive
: 18GB
Video
: 512MB
Jump To Should Run On

Recommended:
OS: Windows 7
DirectX: 11
Processor: 3GHz (Quad Core)
RAM: 4GB
Hard Drive: 18GB
Video: 1GB


Release Date:
15 November 2011
Links: Official Site
Description
The following description was taken from Here
The Race of Your Life
It's called The Run. An illicit, high-stakes race across the country. The only way to get your life back is to be the first from San Francisco to New York.
No speed limits. No rules. No allies. All you have are your driving skills and sheer determination as you battle hundreds of the world's most notorious drivers on the country's most dangerous roads.
In Need for Speed The Run, you'll weave through dense urban centers, rocket down icy mountain passes and navigate narrow canyons at breakneck speeds, all the while evading a relentless police force prepared – and willing – to use lethal force to take you down.
Media
Should Run On

GeForce 9

GeForce 100

GeForce 200

GeForce 300

GeForce 400

GeForce 500

GeForce 600

GeForce 700

GeForce 900

Radeon Evergreen

Radeon Northern Islands

Radeon Southern Islands
See Also
The Need for Speed
Need for Speed 2
Need for Speed 3: Hot Pursuit
Need for Speed: High Stakes
Need for Speed: Porsche Unleashed
Need for Speed: Hot Pursuit 2
Need for Speed: Underground
Need for Speed: Underground 2
Need for Speed: ProStreet
Need for Speed: Undercover
Need for Speed: Shift
Need for Speed: Hot Pursuit (2010)
Need for Speed: Shift 2 Unleashed
Need for Speed: The Run