Need for Speed: Most Wanted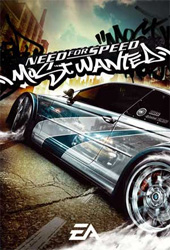 Minimum:
OS
: Windows 2000/XP
DirectX
: 9.0c
Processor
: 1.4GHz (Single Core)
RAM
: 256MB
Hard Drive
: 3GB
Video
: 32MB
Jump To Should Run On

Release Date:
15 November 2005
Links: Official Site
Description
Wake up to the smell of burnt asphalt as the thrill of illicit street racing permeates the air. From the makers of the hit Need for Speed™: Underground series, Need for Speed™: Most Wanted challenges players to become the most notorious and elusive street racer.
Combining illicit street racing and tuner customization with the intensity of strategic police pursuit that surpasses any Hollywood-style chase scene. Out-race rivals, evade cops and exploit hundreds of miles of open road as gamers make their way up the Blacklist.
To become the most wanted racer, players must build up their street cred and Rap Sheet with gripping, white knuckle, head-to-head races with the top drivers on the streets, as well as pull daring, evasive moves to out-run and out-fox the cops that patrol the open road. Players can manage their heat or utilize a number of strategic tactics to keep the cops off their tails as they leave their rivals behind to suck their exhaust fumes.
Need for Speed Most Wanted also features a variety of the hottest cars that range from tuners to super cars. You can customize your ride to race against any class of vehicles.
Media
Should Run On
See Also
The Need for Speed
Need for Speed 2
Need for Speed 3: Hot Pursuit
Need for Speed: High Stakes
Need for Speed: Porsche Unleashed
Need for Speed: Hot Pursuit 2
Need for Speed: Underground
Need for Speed: Underground 2
Need for Speed: Most Wanted
Need for Speed: ProStreet
Need for Speed: Undercover
Need for Speed: Shift
Need for Speed: Hot Pursuit (2010)
Need for Speed: Shift 2 Unleashed