Myst Online: URU Live
(Free To Play)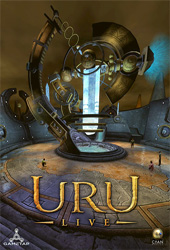 Minimum:
OS
: Windows XP/Vista/7
DirectX
: 9.0c
Processor
: 800MHz (Single Core)
RAM
: 512MB
Hard Drive
: 3GB
Video
: 32MB
Jump To Should Run On

Recommended:
OS: Windows XP/Vista/7
DirectX: 9.0c
Processor: 800MHz (Single Core)
RAM: 1GB
Hard Drive: 3GB
Video: 32MB


Release Date:
15 Febuary 2007
Links: Official Site
Description
The following description was taken from Here
Myst Online: Uru Live is a Free massive multiplayer online game (MMOG) unlike anything else. Instead of repetitive kill/take/buy gameplay of other MMOGs, the very essence of Myst Online is to explore vast, fantastic worlds; savoring and uncovering new areas and new information at every turn. Exploring in Myst Online is an extraordinary experience, where immersing yourself in the environment gives you insight into how to move forward, and what went on before. You can explore alone, or share the journey with a select group friends or family from anywhere in the world. Create an online avatar and chat via text and voice, share images and clues, and explore the Ages of Myst Online together. You'll rediscover, restore and rebuild the ancient city of D'ni and learn about the history of its fallen civilization.
Media
Should Run On
See Also
Myst
Riven
URU: Ages Beyond Myst
Myst Online: URU Live