Myst III: Exile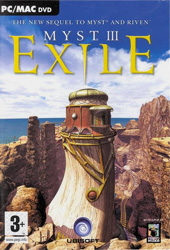 Minimum:
OS
: Windows 95/98/2000
DirectX
: 8
Processor
: 233MHz (Single Core)
RAM
: 64MB
Hard Drive
: 250MB
Video
: 8MB
Jump To Should Run On

Release Date:
7 May 2001
Description
The all-new sequel to Myst® and Riven™ has new technology, a new story, and a new archenemy. It's the perfect place to plan revenge. The success of Myst continues with five entirely new ages to explore and a dramatic new story line that features a pivotal new character.
Game Features:
Free-look movement system allows players a full 360-degree view from any location.
Puzzles gradually reveal mystery and intrigue as they are solved.
Dramatic new storyline introduces a new villain.
Rich music and riveting cinematics create a lush and immersive environment.
Media
Should Run On
See Also
Myst
Riven
Myst III: Exile
URU: Ages Beyond Myst