Myst IV: Revelation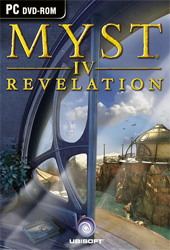 Minimum:
OS
: Windows 98/2000/XP
DirectX
: 9.0c
Processor
: 700MHz (Single Core)
RAM
: 256MB
Hard Drive
: 3.5GB
Video
: 32MB
Jump To Should Run On

Release Date:
28 September 2004
Links: Demo
Description
Journey into a world full of secrets and betrayal that surrounds a families' shattered past. In the next chapter, Myst's two most sinister villains are under scrutiny to piece together this new adventure. You must delve into the depths of their minds to unravel the mystery that is Myst IV: Revelation.
Media
Should Run On
See Also
Myst
Riven
URU: Ages Beyond Myst
Myst IV: Revelation