Tom Clancy's Splinter Cell: Pandora Tomorrow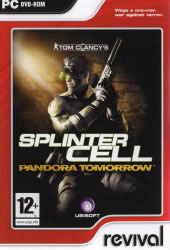 Minimum:
OS
: Windows 2000/XP/Vista
DirectX
: 8.1
Processor
: 1GHz (Single Core)
RAM
: 128MB
Hard Drive
: 2.5GB
Video
: 32MB
Jump To Should Run On

Release Date:
23 March 2004
Links: Demo
Description
You are Sam Fisher, a deadly stealth operative waging a one-man war against an Indonesian terrorist network. The world balance is in your hands, as cyber terrorism and international tensions are about to explode into WWIII. The conspiracy-filled story will test your wits and your nerves, by throwing you into the world of international espionage. Infiltrate terrorists' positions, acquire critical intelligence by any means necessary, execute with extreme prejudice, and exit without a trace.
Media
Should Run On
See Also
Tom Clancy's Splinter Cell: Pandora Tomorrow
Tom Clancy's Splinter Cell: Chaos Theory
Tom Clancy's Splinter Cell: Blacklist