Tom Clancy's Splinter Cell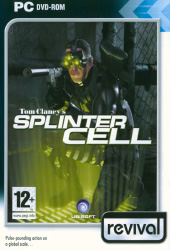 Minimum:
OS
: Windows XP
DirectX
: 8.1
Processor
: 800MHz (Single Core)
RAM
: 256MB
Hard Drive
: 1.5GB
Video
: 32MB
Jump To Should Run On

Release Date: Unknown
Links: Demo
Description
Your name is Sam Fisher and you are the best field-operative of a secretive NSA sub-agency. Sent to execute desperate missions, you're the last resort of your government. Should you be captured or killed, all knowledge of your existence will be denied.
You are a Splinter Cell.
Should Run On
See Also
Tom Clancy's Splinter Cell
Tom Clancy's Splinter Cell: Chaos Theory
Tom Clancy's Splinter Cell: Blacklist