Doom 3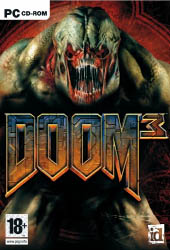 Minimum:
OS
: Windows 2000/XP
DirectX
: 9.0c
Processor
: 1.5GHz (Single Core)
RAM
: 384MB
Hard Drive
: 2.2GB
Video
: 64MB
Jump To Should Run On

Release Date:
2 Febuary 2007
Links: Official Site Demo
Description
The following description was taken from Here
Science has unlocked the gates to the unknown, and now only one man stands between Hell and Earth. A sci-fi horror masterpiece, DOOM 3 is like nothing you have experienced. Dramatic storyline, pulse-pounding action, incredible graphics, and revolutionary technology combine to draw you into the most frightening and gripping first person gaming experience ever created.
The ruins of an ancient martian civilization have unlocked the secrets to teleportation, and the UAC will stop at nothing to harness this world-altering technology. As part of a marine detachment sent to protect the facility, your duty seemed simple enough... until the invasion. Now, in an epic clash against pure evil you must fight to understand who is with you, who is against you, and what must be done to stop this nightmare from reaching earth.
Media
Should Run On
See Also