Doom 2: Hell on Earth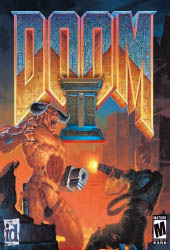 Minimum:
OS
: Windows 95/98/2000/ME
Processor
: 66MHz (Single Core)
RAM
: 8MB
Hard Drive
: 20MB
Jump To Should Run On

Release Date:
30 September 1994
Links: Official Site
Description
The following description was taken from Here
Let the Obsession begin. Again.
This time, the entire forces of the netherworld have overrun Earth. To save her, you must descend into the stygian depths of Hell itself!
Battle mightier, nastier, deadlier demons and monsters. Use more powerful weapons. Survive more mind-blowing explosions and more of the bloodiest, fiercest, most awesome blastfest ever!
Media
Should Run On
No Graphics Card Required
See Also
Doom 2: Hell on Earth
Doom (2016)