Battlefield 1942: Secret Weapons of WWII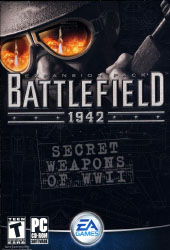 Minimum:
OS
: Windows 98/2000/ME/XP
DirectX
: 8.1
Processor
: 500MHz (Single Core)
RAM
: 128MB
Hard Drive
: 1.6GB
Video
: 32MB
Jump To Should Run On

Recommended:
OS: Windows 98/2000/ME/XP
DirectX: 8.1
Processor: 800MHz (Single Core)
RAM: 256MB
Hard Drive: 1.6GB
Video: 64MB


Release Date:
4 September 2003
Links: Official Site
Description
Battlefield 1942: Secret Weapons of WWII lets you control the most bizarre and lethal top-secret weapons of the Second World War. Straight from Allied and Axis laboratories, many of these weapons never saw combat until now!
Defeat your enemies with a variety of experimental firepower, including the Wasserfall Guided Rocket, the Natter Rocket Plane, and the revolutionary Rocket Pack. Drop from a cargo plane behind enemy lines and prepare for close combat with one-shot-kill knives, new machine guns, and more. Give all of these weapons and vehicles a trial by fire on eight tough new battle maps.
Media
Should Run On
See Also
Battlefield 1942: Secret Weapons of WWII
Battlefield: Bad Company 2
Battlefield: Bad Company 2: Vietnam
Battlefield 3: Back to Karkand