Battlefield 1942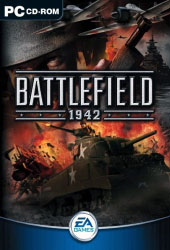 Minimum:
OS
: Windows 98/2000/ME/XP
DirectX
: 8.1
Processor
: 500MHz (Single Core)
RAM
: 128MB
Hard Drive
: 1.2GB
Video
: 32MB
Jump To Should Run On

Recommended:
OS: Windows 98/2000/ME/XP
DirectX: 8.1
Processor: 800MHz (Single Core)
RAM: 256MB
Hard Drive: 1.2GB
Video: 64MB


Release Date:
10 September 2002
Links: Official Site Demo
Description
In Battlefield 1942, you will experience the heat of battle as you heroically storm the beaches of Normandy, drive a tank across the deserts of northern Africa, pilot a fighter plane during the Battle of Midway, command a battleship at Guadalcanal, or parachute and commandeer a jeep in operation Market Garden. It is the only first person, team-based action game that places you in the midst of a raging WWII battlefield with 35 "machines of war" under your control. You`ll pick up the sidearm of your choice and get behind the wheel of a variety of vehicles, ships, and aircraft to go to war on land, sea, and air during some of the most famous and pivotal battles of the Second World War.
Media
Should Run On
See Also
Battlefield 1942
Battlefield: Bad Company 2
Battlefield: Bad Company 2: Vietnam
Battlefield 3: Back to Karkand