Ultimate Doom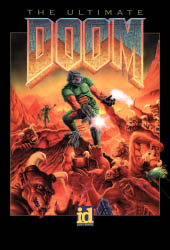 Minimum:
OS
: Windows 95/98/2000
Processor
: 33MHz (Single Core)
RAM
: 8MB
Hard Drive
: 20MB
Jump To Should Run On

Release Date:
20 August 1996
Links: Official Site
Description
The following description was taken from Here
The demons came and the marines died. Except one. Your are the last defense against these hell-spawned hordes. Prepare for the most intense mutant-laden, blood-splattered action ever! The texture-mapped virtual world is so real, you don't just play DOOM - you live it.
The Ultimate DOOM takes you beyond anything you've ever experienced. First, you get all three original episodes - that's 27 levels of awesome, explosive excitement. Then it really blows you away with an all-new episode: Thy Flesh Consumed.
Now you're dead meat. Just when you think you're getting pretty good at DOOM, you get hit with Perfect Hatred, Sever the Wicked and seven other expert levels never seen before! They're so incredibly tough, the first 27 levels will seem like a walk in the park!
Media
Should Run On
No Graphics Card Required
See Also