Terrorist Takedown 2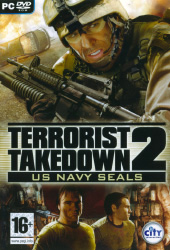 Minimum:
OS
: Windows 2000/XP
DirectX
: 9.0c
Processor
: 2GHz (Single Core)
RAM
: 512MB
Hard Drive
: 2.5GB
Video
: 128MB
Jump To Should Run On

Release Date: Unknown
Links: Official Site Demo
Description
Journalists have been taken prisoner! Two days after the kidnapping the government begins negotiations with the terrorists demanding the release of the captives. With the conditions being impossible to meet it would appear that there are no options left for the negotiation team. Secretly, a special forces unit is dispatched to try and secure the safe return of the hostages. As a US Navy Seals soldier it is not only your task to free the hostages from the hands of the terrorists but you must also make it back alive.
Should Run On
See Also
Terrorist Takedown
Terrorist Takedown: Conflict In Mogadishu
Terrorist Takedown: Covert Operations
Terrorist Takedown: Payback
Terrorist Takedown: War in Colombia
Terrorist Takedown 2
Terrorist Takedown 3