Stalker: Clear Sky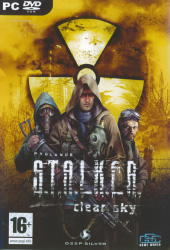 Minimum:
OS
: Windows 2000/XP/Vista
DirectX
: 8
Processor
: 2GHz (Single Core)
RAM
: 512MB
Hard Drive
: 10GB
Video
: 128MB
Jump To Should Run On

Recommended:
OS: Windows 2000/XP/Vista
DirectX: 9.0c
Processor: 2GHz (Duel Core)
RAM: 1.5GB
Hard Drive: 10GB
Video: 256MB


Release Date:
12 September 2008
Links: Official Site
Description
In 2011 a group of S.T.A.L.K.E.R.S has for the first time reached the very heart of the Zone and brings about a cataclysm on the brink of a catastrophe. An immense blowout of anomalous energy changes the Zone. The entire levels vanish in the outbursts of anomalies. Many are dying or end up sealed on the lost territories. New areas emerge which remained unknown since the time of the Zone. The Zone is unstable. The anomalous activity is at its maximum.
What's waiting for S.T.A.L.K.E.R.S in the opened depths of the Zone?
Media
Should Run On
See Also