Warhammer 40,000: Dawn of War - Winter Assault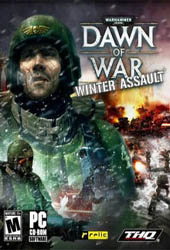 This is an expansion and requires
Warhammer 40,000: Dawn of War
.
Minimum:
OS
: Windows 98/2000/ME/XP
DirectX
: 9.0b
Processor
: 1.8GHz (Single Core)
RAM
: 256MB
Hard Drive
: 2.5GB
Video
: 32MB
Jump To Should Run On

Recommended:
OS: Windows 98/2000/ME/XP
DirectX: 9.0b
Processor: 2.4GHz (Single Core)
RAM: 512MB
Hard Drive: 2.5GB
Video: 64MB


Release Date:
23 September 2005
Links: Official Site
Description
The following description was taken from Here
Winter Assault is the expansion pack to the 2004's RTS Game of the Year, Warhammer 40,000: Dawn of War. Lost amongst the ruins of a leveled city lies an Emperor Class Titan, a war vessel of untold power forged in the planet-wide furnaces of Mars, and revered by billions as the epitome of Imperial dominance. The one who controls it will command the power to destroy, or defend, a world. The Imperials will summon it to overcome great evil, Chaos will corrupt it for their own designs, Orks will destroy it in their bloodlust and Eldar will disregard it in their arrogance.
Features:
Take command of a completely new race, the Imperial Guard, in 12 new single player missions.
Battle against the Space Marine, Eldar, Ork and Chaos races, each with brand new units.
Direct your troops in all out war across harsh new winter battlegrounds with enhanced urban terrain and additional interactive objects and structures.
Revel in new and improved gameplay features including a new tech tree, hundreds of new animations and endless new strategies.
Dominate 20 new multiplayer maps with advanced online features including observer mode, arranged team play and improved auto match.
Media
Should Run On
See Also
Warhammer 40,000: Dawn of War
Warhammer 40,000: Dawn of War - Winter Assault
Warhammer 40,000: Dawn of War - Dark Crusade
Warhammer 40,000: Dawn of War - Soulstorm
Warhammer 40,000: Dawn of War 2 - Chaos Rising
Warhammer 40,000: Dawn of War 2 - Retribution