Unreal Tournament 2004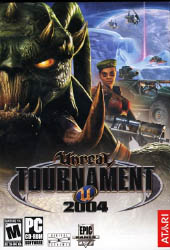 Minimum:
OS
: Windows 98/2000/XP
DirectX
: 8.1
Processor
: 1GHz (Single Core)
RAM
: 128MB
Hard Drive
: 3.5GB
Video
: 64MB
Jump To Should Run On

Recommended:
OS: Windows 98/2000/XP
DirectX: 8.1
Processor: 1.5GB (Single Core)
RAM: 256MB
Hard Drive: 3.5GB
Video: 64MB


Release Date:
16 March 2004
Description
Unreal Tournament 2004 is a multiplayer first person shooter that combines the kill-or-be-killed experience of gladiatorial combat with cutting-edge technology. Ten game modes - both team-based and "every man for himself" -- provide even the most hardcore gamer with palm-sweating challenges through unbelievably detailed indoor arenas and vast outdoor environments. As the ultimate techno-gladiator of the future, players will take their fates into their hands, battling against up to 32 other players online in action-packed, frag-filled arenas.
Should Run On
See Also