Tomb Raider 6: The Angel of Darkness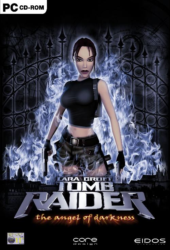 Minimum:
OS
: Windows 98
DirectX
: 9
Processor
: 500MHz (Single Core)
RAM
: 128MB
Hard Drive
: 200MB
Video
: 16MB
Jump To Should Run On

Recommended:
OS: Windows XP/2000
DirectX: 9
Processor: 1.5GHz (Single Core)
RAM: 128MB
Hard Drive: 200MB
Video: 64MB


Release Date:
1 July 2003
Description
The following description was taken from Here
A series of grisly murders brings Lara into conflict with a sinister Alchemist from the past, and a secret alliance of powerful individuals shrouded in mystery. Accused of the murder of her one time mentor, Werner Von Croy, Lara becomes a fugitive on the run. Pursued by the police, she follows the Alchemist into a dark world of blood, betrayal and vengeance where it is up to her to defeat this unholy alliance, and stop them from unleashing their incredible powers on the world.
Should Run On
See Also