Thief 3: Deadly Shadows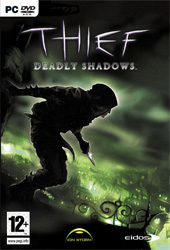 Minimum:
OS
: Windows 2000/XP
DirectX
: 9.0c
Processor
: 1.5GHz (Single Core)
RAM
: 256MB
Hard Drive
: 3GB
Video
: 64MB
Shader
: 1.1
Jump To Should Run On

Release Date:
25 May 2004
Links: Demo
Description
You are Garrett, a Master Thief, rarely seen but never caught. Moving silently through the shadows, you are able to sneak past any guard, pick any lock, break into the most ingeniously secured residences. Stealing from the wealthy is all in a night's work.
In this intense thriller of murderous conspiracy you must use your stealth tactics to uncover a sinister secret that lies within the city walls. Will your skills be enough to save the dying city, can you survive betrayal, assassins, and war in the labyrinth of city streets?
Tension-fuelled stealth as enemies see and hear, track evidence, search for intruders, give chase and fight to the end.
A variety of gameplay - Break & Enter, Steal, Combat, Ambush and Assassinate.
Darkness is your weapon; conceal your presence, sneak silently past guards and strike from the shadows.
A Huge Arsenal of Thieves' Tools at your disposal; Mechanical Eye, Flash Bombs, Fire Arrows, Wall Climbing Gloves to name but a few.
Fully supported 1st and 3rd person perspective - it's your choice!
Media
Should Run On
See Also
Thief: The Dark Project
Thief 2: The Metal Age
Thief 3: Deadly Shadows
Thief (2014)