The First Templar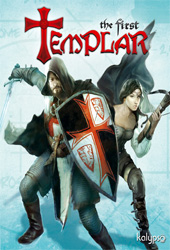 Minimum:
OS
: Windows XP/Vista/7
DirectX
: 9.0c
Processor
: 2.4GHz (Single Core)
RAM
: 1GB
Hard Drive
: 5GB
Video
: 256MB
Shader
: 3.0
Jump To Should Run On

Recommended:
OS: Windows XP/Vista/7
DirectX: 9.0c
Processor: 2.4GHz (Duel Core)
RAM: 2GB
Hard Drive: 5GB
Video: 512MB
Shader: 3.0


Release Date:
6 May 2011
Links: Official Site
Description
The following description was taken from Here
The First Templar is a co-operative action adventure game, set in a dark and gritty portrayal of the late 13th Century during the Crusades where old friends become enemies, corruption spreads throughout the Church and once noble knights oppress the weak and renounce their oaths.
Follow the path of two unlikely heroes on their search for the Holy Grail. The young french Templar Celian teams up with the noble lady and proclaimed heretic Marie to unveil a grand conspiracy within the Order of the Knights Templar. The heroes face powerful opponents at every turn including the Saracen, King Philip of France and the Holy Inquisition.
Media
Should Run On