The Elder Scrolls 4: Oblivion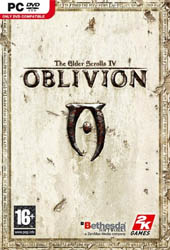 Minimum:
OS
: Windows 2000/XP
DirectX
: 9
Processor
: 2GHz (Single Core)
RAM
: 512MB
Hard Drive
: 4.6GB
Video
: 128MB
Jump To Should Run On

Recommended:
OS: Windows 2000/XP
DirectX: 9
Processor: 3GHz (Single Core)
RAM: 1GB
Hard Drive: 4.6GB
Video: 256MB


Release Date:
20 March 2006
Links: Official Site
Description
Oblivion is a single-player game that takes place in Tamriel's capital province, Cyrodiil. You are given the task of finding the hidden heir to a throne that sits empty, the previous emperor having been killed by an unknown assassin. With no true Emperor, the gates to Oblivion (the equivalent of hell in the world of Tamriel) open, and demons begin to invade Cyrodiil and attack its people and towns. It's up to you to find the lost heir to the throne and unravel the sinister plot that threatens to destroy all of Tamriel.
Media
Should Run On
See Also
The Elder Scrolls 4: Oblivion
The Elder Scrolls Online