Star Trek: Elite Force 2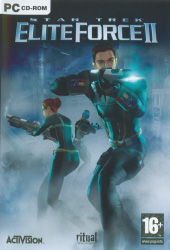 Minimum:
OS
: Windows 98/ME/2000/XP
DirectX
: 9
Processor
: 600MHz (Single Core)
RAM
: 128MB
Hard Drive
: 1.3GHZ
Video
: 32MB
Jump To Should Run On

Release Date:
20 June 2003
Links: Official Site Demo
Description
The alien invaders show no mercy, and neither should you. Hack, blast and vaporise your way into the heart of galactic evil with devastating firepower. Battle through the ravaged hulk of a massive starship, protect an alien colony under siege, face the unknown on a treacherous volcanic planetoid and assault a host of insidious alien strongholds. Where diplomacy fails, the Hazard Team thrives.
Media
Should Run On
See Also
Star Trek Voyager: Elite Force
Star Trek: Elite Force 2