Sin Episodes: Emergence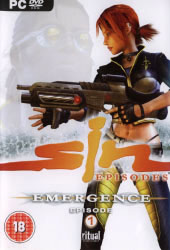 Minimum:
OS
: Windows 98/2000/XP
DirectX
: 7
Processor
: 1.2GHz (Single Core)
RAM
: 256MB
Jump To Should Run On

Recommended:
OS: Windows 98/2000/XP
DirectX: 9
Processor: 2.4GHz (Single Core)
RAM: 512MB


Release Date:
10 May 2006
Description
You're Colonel John R. Blade, commander of the most legendary Security Force in Freeport. For years you have waged a personal crusade against the wicked geneticist Elexis Sinclair. Now, with Elexis a the height of her power, it's up to you to stop her before he remakes humanity according to her own twisted vision.
Media
Should Run On
See Also
Sin
Sin: Wages of Sin
Sin Episodes: Emergence