Serious Sam HD: The Second Encounter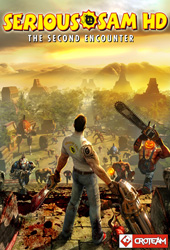 Minimum:
OS
: Windows XP/Vista/7
DirectX
: 9.0c
Processor
: 3GHz (Single Core)
RAM
: 1GB
Hard Drive
: 2.2GB
Video
: 256MB
Shader
: 3.0
Jump To Should Run On

Release Date:
28 April 2010
Links: Official Site
Description
The following description was taken from Here
The glorious high-definition (HD) chaos continues in Serious Sam HD: The Second Encounter, the highly anticipated arcade action FPS sequel to the Serious Sam HD: The First Encounter.
Developed by Croteam and powered by the Serious Engine 3, Serious Sam HD: The Second Encounter combines spectacularly enhanced visuals, including more polygons, higher resolution textures and more special effects like hippy and kid's mode, with trademark frantic gameplay for a non-stop action.
Featuring single-play, survival and cooperative play and mixed with brilliantly updated visuals, the game continues your battle against Mental's army with the classic over-the-top action, crazy humor and horror from the golden age of first-person shooters.
Combined with intense versus and team modes for up to 16 players and in over 18 multiplayer maps, demo recording option, spectators and dedicated server support, Serious Sam HD: The Second Encounter is a worthy successor to the original masterpiece.
Media
Should Run On
See Also
Serious Sam: The First Encounter
Serious Sam: The Second Encounter
Serious Sam HD: The Second Encounter
Serious Sam 3