Second Sight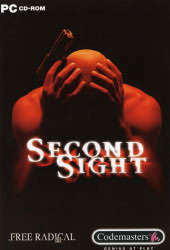 Minimum:
OS
: Windows 2000/XP
DirectX
: 9.0c
Processor
: 1GHz (Single Core)
RAM
: 256MB
Hard Drive
: 1GB
Video
: 32MB
Jump To Should Run On

Recommended:
OS: Windows 2000/XP
DirectX: 9.0c
Processor: 2GHz (Single Core)
RAM: 512MB
Hard Drive: 1GB
Video: 32MB


Release Date: Unknown
Links: Demo
Description
When John Vattic wakes in a secure medical facility, something is terribly wrong. Stolen from his mind are his recent memories. Left in there place is an incredible power that threatens to tear his psyche apart.
It's an intense psychological journey as the past plays into the hands of the future, in a mind blowing mix of stealth, gunplay and devastating psychic powers.
Should Run On