Raven Squad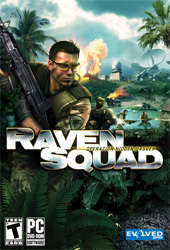 Minimum:
OS
: Windows 2000/XP
DirectX
: 9.0c
Processor
: 3GHz (Single Core)
RAM
: 512MB
Hard Drive
: 2.1GB
Video
: 128MB
Shader
: 2.0
Jump To Should Run On

Recommended:
OS: Windows 2000/XP
DirectX: 9.0c
Processor: 3.4GHz (Single Core)
RAM: 1GB
Hard Drive: 2.1GB
Video: 256MB
Shader: 3.0


Release Date:
25 August 2009
Description
A plane carrying top secret data has crashed in the Amazon. If it is captured by the enemy there is no telling how many lives will be lost. You and your team have been called in to rescue any survivors and retrieve the data at all costs. You're professionals - this is what you do.
On your way to the drop, your plane was hit by a surface-to-air missile and you and your team were forced to make an emergency jump into hostile territory. Alone and surrounded by enemy forces, you and the surviving members of Raven Squad still have a mission to complete. If you're lucky, you'll even live to talk about it.
Raven Squad is a tactical action game set in the Amazonian jungles that blends a first person shooter (FPS) experience with the command and overview advantages of a tactical real-time strategy (RTS) with dominantly story driven objectives. The player can solve each tactical situation using his own combination of the two genres either by himself or cooperatively with a friend.
Media
Should Run On