Puzzle Agent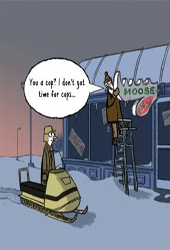 Minimum:
OS
: Windows XP/Vista/7
DirectX
: 8.1
Processor
: 2GHz (Single Core)
RAM
: 512MB
Hard Drive
: 220MB
Video
: 64MB
Jump To Should Run On

Recommended:
OS: Windows XP/Vista/7
DirectX: 8.1
Processor: 3GHz (Single Core)
RAM: 1GB
Hard Drive: 220MB
Video: 128MB


Release Date:
30 June 2010
Description
What the heck is going in Scoggins, Minnesota? When White House inquiries to the Scoggins Eraser Co. are answered only with curious puzzles, the U.S. Department of Puzzle Research's Nelson Tethers is sent on the case.
The strange case of Scoggins plunges Tethers into a mystery that will challenge every ounce of his expertise, and possibly his very wits too. He must overcome brainteasers at every turn, including mazes, logic puzzles and riddles, and he soon realizes that these - along with the clinically pre-occupied townspeople, secret societies, and mysterious sounds from the forest - are intimately connected to the core conundrum. And what's with the gnomes?
Media
Should Run On
See Also
Puzzle Agent
Puzzle Agent 2