Prototype 2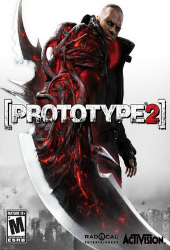 Minimum:
OS
: Windows XP/Vista/7
DirectX
: 9.0c
Processor
: 2.6GHz (Duel Core)
RAM
: 2GB
Hard Drive
: 10GB
Video
: 512MB
Jump To Should Run On

Recommended:
OS: Windows 7
DirectX: 9.0c
Processor: 2.7GHz (Quad Core)
RAM: 4GB
Hard Drive: 10GB
Video: 1GB


Release Date:
24 July 2012
Links: Official Site
Description
The following description was taken from Here
WELCOME TO NEW YORK ZERO
The sequel to Radical Entertainment's best-selling open-world action game of 2009, PROTOTYPE® 2 takes the unsurpassed carnage of the original PROTOTYPE and continues the experience of becoming the ultimate shape-shifting weapon. You are Sgt James Heller, husband to a deceased wife and child and a soldier left simply to die.
As the game's all-new infected protagonist, players will experience Sgt James Heller cutting a bloody swathe through the wastelands of post-viral New York Zero. Equipped with unparalleled new shapeshifting powers,players will gradually build a vast genetic arsenal of deadly new biological weapons and abilities as they hunt, kill and consume their way toward the ultimate goal – to kill…Alex…Mercer!
Are you ready to murder your maker?
Media
Should Run On

GeForce 9

GeForce 100

GeForce 200

GeForce 300

GeForce 400

GeForce 500

GeForce 600

GeForce 700

GeForce 900

Radeon Evergreen

Radeon Northern Islands

Radeon Southern Islands
See Also