Project Snowblind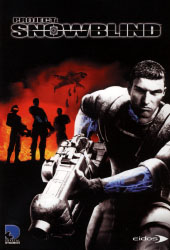 Minimum:
OS
: Windows 2000/XP
DirectX
: 9
Processor
: 1.5GHz (Single Core)
RAM
: 256MB
Hard Drive
: 3GB
Video
: 64MB
Shader
: 1.1
Jump To Should Run On

Recommended:
OS: Windows 2000/XP
DirectX: 9
Processor: 2.4GHz (Single Core)
RAM: 512MB
Hard Drive: 3GB
Video: 128MB
Shader: 2.0


Release Date: Unknown
Links: Demo
Description
The outcome of experimental battlefield surgery is something more than human.
A unique weapons-grade warrior, Nathan Frost now has abilities that far surpass human physical limits.
Sent deep beyond the frontlines, Frost and a handful of men are the best chance against the world's next Terrorist Sovereign.
In a last attempt to restore Peace, War shall rage.
Should Run On