Prince of Persia: The Forgotten Sands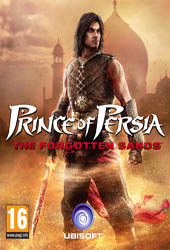 Minimum:
OS
: Windows XP/Vista/7
DirectX
: 9.0c
Processor
: 2.2GHz (Duel Core)
RAM
: 1GB(XP), 2GB(Vista/7)
Hard Drive
: 8GB
Video
: 256MB
Shader
: 3.0
Jump To Should Run On

Recommended:
OS: Windows XP/Vista/7
DirectX: 9.0c
Processor: 2.6GHz (Duel Core)
RAM: 4GB
Hard Drive: 8GB
Video: 512MB
Shader: 3.0


Release Date:
12 June 2010
Links: Official Site
Description
Prince of Persia - The Forgotten Sands is the next chapter in the Sands of Time universe. Visiting his brother's kingdom following his adventure in Azad, the Prince finds the royal palace under siege from a mighty army bent on its destruction. His brother Malik decides to use the ancient power of the Sand in a desperate gamble to save the kingdom from total annihilation. To save the kingdom, the Prince must embark on an epic adventure in which he will learn to bear the mantle of true leadership, and that great power often comes with a great cost.
Media
Should Run On
See Also
Prince of Persia: The Sands of Time
Prince of Persia: Warrior Within
Prince of Persia: The Two Thrones
Prince of Persia
Prince of Persia: The Fallen King
Prince of Persia: The Forgotten Sands