Prey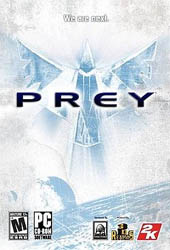 Minimum:
OS
: Windows 2000/XP
DirectX
: 9.0c
Processor
: 2GHz (Single Core)
RAM
: 512MB
Hard Drive
: 2.2GB
Video
: 64MB
Jump To Should Run On

Recommended:
OS: Windows 2000/XP
DirectX: 9.0c
Processor: 2.5GHz (Single Core)
RAM: 1GB
Hard Drive: 2.2GB
Video: 256MB


Release Date:
11 July 2006
Links: Demo
Description
Imagine a place where gravity isn't always down! It can be controlled, twisted, flipped, and even wrap around small planetoids. Imagine walking on walls and ceilings? Can you handle this new challenge?
Portals change everything. Experience for the first time the reality bending effects of a portal world. Prey sets a new standard that will completely mess with your mind.
Media
Should Run On
See Also