Original War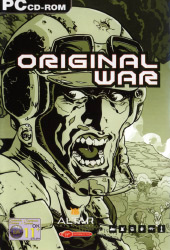 Minimum:
OS
: Windows 95/98
DirectX
: 7
Processor
: 266MHz (Single Core)
RAM
: 64MB
Hard Drive
: 2GB
Jump To Should Run On

Recommended:
OS: Windows XP/Vista
DirectX: 7
Processor: 450MHz (Single Core)
RAM: 128MB
Hard Drive: 2GB


Release Date:
15 June 2001
Links: Official Site Support Site Demo
Description
Russia is in disarray, but unknowingly sits on a mineral that could see her rule the world. The mineral, Siberite, is a catalyst for Cold Fusion. America knows about Siberite and sets out to make sure that it never falls into Russian hands.
Take control of US marines sent on a one-way trip into the past to move the Siberite into American territory or command Russian troops to go back and keep it where it is. Whatever you decide, beware the Arab mercenaries who only want to see the Siberite destroyed!
Media
Should Run On
No Graphics Card Required