NecroVisioN: Lost Company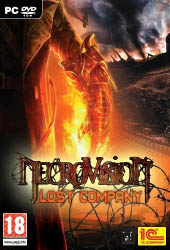 Minimum:
OS
: Windows XP/Vista
DirectX
: 9.0c
Processor
: 2.4GHz (Single Core)
RAM
: 1GB
Hard Drive
: 8GB
Video
: 256MB
Shader
: 3.0
Jump To Should Run On

Recommended:
OS: Windows XP/Vista
DirectX: 9.0c
Processor: 1.8GHz (Duel Core)
RAM: 2GB
Hard Drive: 8GB
Video: 256MB
Shader: 3.0


Release Date:
19 Febuary 2010
Links: Official Site
Description
The following description was taken from Here
NecroVisioN: Lost Company is the prequel to original horror FPS shooter, taking place before the NecroVisioN story begins. It contains a bunch of unique levels, characters, weapons and gameplay elements as well as new main hero that presents the original game story from opposite perspective. Player is now one of WWI German troops that discovers the evil forces unleashed by the war, starts to fight against them and leads soldiers of all nations gathered on the front through the massive battles against the zombies and demons and finally he becomes a first Necromancer that will fight against Simon Bukner in NecroVisioN.
Media
Should Run On
See Also
NecroVisioN
NecroVisioN: Lost Company