Nation Red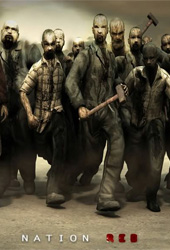 Minimum:
OS
: Windows XP/Vista/7
DirectX
: 9.0c
Processor
: 2GHz (Single Core)
RAM
: 256MB
Hard Drive
: 600MB
Video
: 128MB
Shader
: 2.0
Jump To Should Run On

Release Date:
23 August 2009
Links: Official Site
Description
The following description was taken from Here
Nation Red is an ultrafast infinite play arena-based shooter providing an exceptional close-quarter battlefield experience. Fight thousands of zombie mutants and their bosses in frantic bloody gameplay.
Battle through 18 quests, earn mission stars and fight in a range of gameplay modes: Free Play, Survival and Barricade for unlimited replayability.
Access a huge array of weapons, 50+ perks and powerups to customize your fighter.
Media
Should Run On