Mount & Blade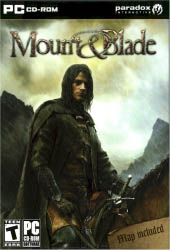 Minimum:
OS
: Windows 2000/XP/Vista
DirectX
: 7
Processor
: 2GHz (Single Core)
RAM
: 512MB
Hard Drive
: 700MB
Video
: 64MB
Jump To Should Run On

Recommended:
OS: Windows 2000/XP/Vista
DirectX: 7
Processor: 2GHz (Duel Core)
RAM: 1GB
Hard Drive: 700MB
Video: 128MB


Release Date:
16 September 2008
Links: Official Site Demo
Description
The following description was taken from Here
Mount&Blade is an immersive medieval war simulation taking place in a fictitious land named Calradia. Enriched with RPG elements, Mount&Blade offers a captivating environment, beautifully detailed with hundreds of castles, towns, and villages to explore.
Master your mounted and on foot combat skills, choosing from a vast arsenal of medieval weaponry including polearms, axes, swords, bows and many more. Serve as a vassal under a powerful king, or raise your own armies and compete for domination of Calradia.
Media
Should Run On
See Also
Mount & Blade
Mount & Blade: Warband