Mark of the Ninja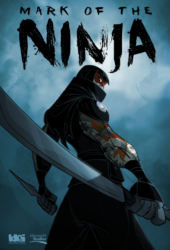 Minimum:
OS
: Windows Xp/Vista/7
DirectX
: 9.0c
Processor
: 2.4GHz (Duel Core)
RAM
: 2GB
Hard Drive
: 2.5GHZ
Video
: 256MB
Jump To Should Run On

Recommended:
OS: Windows Xp/Vista/7
DirectX: 9.0c
Processor: 3GHz (Quad Core)
RAM: 2GB
Hard Drive: 2.5GHZ
Video: 512MB


Release Date:
16 October 2012
Links: Official Site
Description
The following description was taken from Here
You are a ninja who bears the mark — a tattoo whose ink bestows heightened senses, but at a terrible cost.
Observe… your enemies from the darkness, and use your agility to gain the high ground. Plan your line of action, and execute it before they discover you.
Manipulate… Your foes with simple yet versatile tools. Blow out lights with a bamboo dart, create a diversion with a child's firecracker, and kill your prey with a deadly trap.
Experience… The tension and thril of being a ninja — powerful but fragile, quick but deliberate.
Should Run On