Mafia 2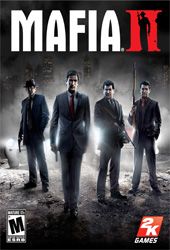 Minimum:
OS
: Windows XP/Vista/7
DirectX
: 9.0c
Processor
: 3GHz (Duel Core)
RAM
: 1.5GB
Hard Drive
: 8GB
Video
: 256MB
Shader
: 3.0
Jump To Should Run On

Recommended:
OS: Windows XP/Vista/7
DirectX: 9.0c
Processor: 2.4GHz (Duel Core)
RAM: 2GB
Hard Drive: 10GB
Video: 512MB
Shader: 3.0


Release Date:
24 August 2010
Links: Official Site
Description
The following description was taken from Here
A petty criminal his whole life, Vito, along with his childhood friend, Joe, will descend into the world of organized crime. Together, they will work to prove themselves to the Mafia as they try to make their names on the streets. Starting with low-level jobs like robbery and stealing cars, Vito and Joe escalate quickly up the Mafia family ladder... but the life as a wise guy isn't quite as glamorous as it seems.
Media
Should Run On

GeForce 9

GeForce 100

GeForce 200

GeForce 300

GeForce 400

GeForce 500

GeForce 600

GeForce 700

GeForce 900

Radeon R700

Radeon Evergreen

Radeon Northern Islands

Radeon Southern Islands
See Also