La Tale
(Free To Play)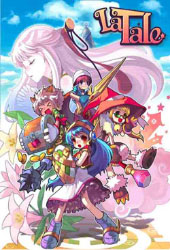 Minimum:
OS
: Windows 98/2000
DirectX
: 9.0c
Processor
: 866MHz (Single Core)
RAM
: 512MB
Hard Drive
: 1GB
Video
: 64MB
Jump To Should Run On

Recommended:
OS: Windows XP/Vista
DirectX: 9.0c
Processor: 2GHz (Single Core)
RAM: 1GB
Hard Drive: 1GB
Video: 128MB


Release Date:
18 March 2008
Links: Official Site
Description
La Tale beautifully illustrates the greatest story of them all, yours. Travel through the continent of Giendia with your friends and experience fantasy and science fiction at the same time. Your journey begins in the kingdom of Elias; armed with the basic weapons and a fresh senthusiasm, you wonder what awaits you? And what will the tale bring?
Media
Should Run On