Knights Of The Temple: Infernal Crusade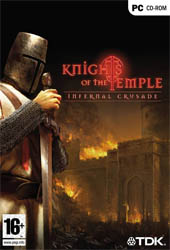 Minimum:
OS
: Windows 98/2000
DirectX
: 8
Processor
: 500MHz (Single Core)
RAM
: 128MB
Hard Drive
: 2.8GB
Video
: 16MB
Jump To Should Run On

Release Date:
19 March 2004
Links: Official Site Demo
Description
The following description was taken from Here
An evil bishop has abducted Adelle, a mysterious young woman with divine powers. Embarking on his unholy crusade with his entourage of disciples and their captive, Adelle, he follows the initial routes of the historic crusades. By misusing Adelle´s powers against her will, he plans to complete the Unholy Circle and to perform dark rituals in the most sacred places to desecrate them. In this way he intends to eventually unlock and gain access to the Gateway to Hell.
Paul, a young, newly initiated Templar knight, is faced with the daunting task of trying to uncover the root of the Evil Conspiracy he's stumbled upon. He will need to obstruct the completion of the Unholy Circle to prevent the Evil Bishop from fulfilling his plan. Only by saving Adelle can he save the world form Evil.
Media
Should Run On
See Also
Knights Of The Temple: Infernal Crusade
Knights Of The Temple 2