Kingdoms of Amalur: Reckoning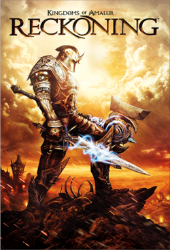 Minimum:
OS
: Windows XP/Vista/7
DirectX
: 9.0c
Processor
: 2.2GHz (Duel Core)
RAM
: 1GB(XP), 2GB(Vista/7)
Hard Drive
: 10.5GB
Video
: 512MB
Shader
: 3.0
Jump To Should Run On

Recommended:
OS: Windows XP/Vista/7
DirectX: 9.0c
Processor: 2.4GHz (Quad Core)
RAM: 3GB(XP), 4GB(Vista/7)
Hard Drive: 10.5GB
Video: 1GB
Shader: 3.0


Release Date:
7 Febuary 2012
Description
The following description was taken from Here
The minds of New York Times bestselling author R.A. Salvatore, Spawn creator Todd McFarlane, and Elder Scrolls IV: Oblivion lead designer Ken Rolston have combined to create Kingdoms of Amalur: Reckoning, a new role-playing game set in a world worth saving. Build the character you've always wanted and continuously evolve it to your style of play with the revolutionary Destiny system. Choose your path and battle through a master-crafted universe featuring some of the most intense, responsive, and customizable RPG combat ever.
Media
Should Run On

GeForce 9

GeForce 100

GeForce 200

GeForce 300

GeForce 400

GeForce 500

GeForce 600

GeForce 700

GeForce 900

Radeon R700

Radeon Evergreen

Radeon Northern Islands

Radeon Southern Islands