Keepsake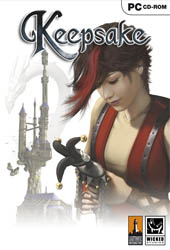 Minimum:
OS
: Windows 2000/XP
DirectX
: 9
Processor
: 1GHz (Single Core)
RAM
: 256MB(2000), 512MB(XP)
Hard Drive
: 1.4GB
Video
: 32MB
Jump To Should Run On

Release Date:
17 March 2006
Links: Demo
Description
Teamed with an odd companion, you follow the clever intrigue behind the magical academy mystery, and learn the dreams and deceptions of their inhabitant.
Explore an enormouse school of magical creatures!
Play at your own pace, the game challenges your wits rather than your dexterity!
Media
Should Run On