James Bond 007: Quantum of Solace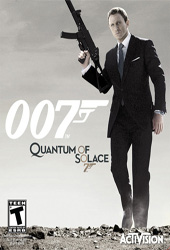 Minimum:
OS
: Windows XP/Vista
DirectX
: 9.0c
Processor
: 3Ghz (Single Core)
RAM
: 512MB
Hard Drive
: 7.8GB
Video
: 128MB
Jump To Should Run On

Recommended:
OS: Windows XP/Vista
DirectX: 9.0c
Processor: 1.8GHz (Duel Core)
RAM: 1GB
Hard Drive: 7.8GB
Video: 128MB


Release Date:
31 October 2008
Description
The following description was taken from Here
BOND IS BACK. Blending first person shooting and third person cover combat, Quantum of Solace the Game puts you in control of Bond's greatest weapon — his mind. Based on both the Quantum of Solace and Casino Royale films, Quantum of Solace the Game puts you in the midst of the high-octane world of international espionage and intrigue.
YOU ARE THE NEW BOND: Employ all of your Bond skills including tactical combat, precision shooting, crushing takedowns and deadly stealth.
TAKE COVER: First person shooting with third person cover combat allows you to adjust your gameplay to meet each challenge.
FIGHT WORTHY ADVERSARIES: Advanced AI systems allow enemies to react to you in intelligent and tactical ways.
THE NEW WORLD OF BOND: Immerse yourself in world of Bond with characters from both films and missions that take you through exotic real world locations.
BECOME THE WORLDS PREMIER MI6 AGENT: Go online with standard 12-player multiplayer modes plus unique Bond modes.
Media
Should Run On
See Also
James Bond 007: Nightfire
James Bond 007: Quantum of Solace
James Bond 007: Legends