Horrid Henry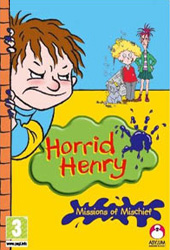 Minimum:
OS
: Windows XP/Vista/7
DirectX
: 9.0c
Processor
: 2GHz (Single Core)
RAM
: 512MB
Hard Drive
: 512MB
Video
: 128MB
Jump To Should Run On

Release Date:
30 October 2009
Links: Official Site
Description
The following description was taken from Here
Now Horrid Henry moves from the multi-million selling book series and massively successful TV show onto the PC!
Henry is a head-strong boy, constantly raging against the tyranny of adults and infuriating girls.
Henry has a range of special skills and equipment he can use during missions. His task is to dash around locations playing pranks on other characters while trying to avoid getting caught.
Media
Should Run On