Hello Kitty Online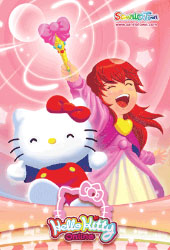 Minimum:
OS
: Windows 2000/XP/Vista
DirectX
: 8
Processor
: 1.5GHz (Single Core)
RAM
: 512MB
Hard Drive
: 4GB
Video
: 64MB
Jump To Should Run On

Release Date:
1 July 2009
Links: Official site
Description
Hello Kitty Online (HKO) is a MMORPG with a prominent and engaging social aspect. The game takes place in Sanrio Land, the magical and cute online world of Hello Kitty. In Sanrio Land, players can visit Florapolis, London, Paris, Tokyo, Beijing, and various other locations. No matter their location, players will participate in puzzles, go on quests, and live their own adventures as part of an enchanting storyline.
Players choose and customize their characters, build their dream houses, cultivate their own farms, set up clubs, earn and spend Loyalty Points around the game world, and interact with their friends and favorite Sanrio characters.
Hello Kitty Online is more than an ordinary MMORPG because it is integrated with the SanrioTown community. Many of SanrioTown's features and award-winning technologies are available within the game, making it a great way for players to meet friends and socialize in a warm and friendly environment.
Media
Should Run On