Ground Control 2: Operation Exodus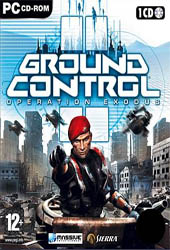 Minimum:
OS
: Windows 98/2000/XP
DirectX
: 7.0
Processor
: 1.4GHz (Single Core)
RAM
: 128MB(98), 256MB(2000/XP)
Hard Drive
: 1.5GB
Video
: 32MB
Jump To Should Run On

Recommended:
OS: Windows 98/2000/XP
DirectX: 7.0
Processor: 1.5GHz (Single Core)
RAM: 256MB
Hard Drive: 1.5GB
Video: 128MB


Release Date:
18 June 2004
Links: Official Site Demo
Description
The year is now 2741 and our hero, Captain Jacob Angelus, finds himself at the center of a war between the Northern Star Alliance and the vicious Terran Empire. At his disposal are huge combat dropships, battle-hardened infantry, armoured vehicles, powerful tanks and an assortment of air units. Well-balanced strategic and tactical control is imperative to mission success.
Media
Should Run On
See Also
Ground Control
Ground Control: Dark Conspiracy
Ground Control 2: Operation Exodus