Greed Corp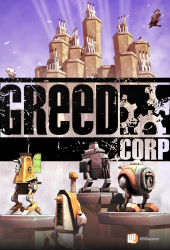 Minimum:
OS
: Windows XP/Vista/7
DirectX
: 9.0c
Processor
: 3Ghz (Single Core)
RAM
: 1GB
Hard Drive
: 1GB
Video
: 128MB
Jump To Should Run On

Release Date:
10 December 2010
Links: Official Site
Description
The following description was taken from Here
Turn-based strategy at its finest! Greed Corp is an award winning, innovative turn-based strategy game, situated in a rich, fictional world inspired by the industrial revolutions and their destructive effects on the environment. Find the delicate balance between harvesting the land for resources and preserving it to stay alive. Will you defend your territory or sacrifice it to keep it out of enemy hands? Manage the finite available resources to build your army and use the collapsing terrain to your advantage.
Destroy your enemies, or destroy the very land they stand on, before they do it to you.
KEY FEATURES:
An Innovative land collapsing mechanic, creating intense strategic battle.
Earn Achievements and titles, playing as one of four factions in bite-sized matches of around 20 minutes.
10+ hours single player campaign consisting of a tutorial and 24 unique maps.
Friendly and ranked 2, 3, and 4-player battles spread across 36 unlockable map.
Further customize matches with any combination of local, online, and computer players (three difficulty levels).
Media
Should Run On