Future Wars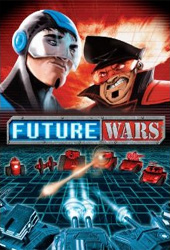 Minimum:
OS
: Windows XP/Vista/7
DirectX
: 9.0c
Processor
: 3GHz (Single Core)
RAM
: 1GB
Hard Drive
: 500MB
Video
: 256MB
Shader
: 2.0
Jump To Should Run On

Recommended:
OS: Windows XP/Vista/7
DirectX: 9.0c
Processor: 2.14GHz (Duel Core)
RAM: 2GB
Hard Drive: 500MB
Video: 256MB
Shader: 2.0


Release Date:
7 April 2010
Description
The following description was taken from Here
Similar to classic titles such as Advance Wars and Battle Isle, the game takes turn-based strategy gaming away from the micro-management overkill that it has become and using simple, proven rock-paper-scissors principles, reopens the genre to a wider audience.
With a modern 3D engine providing the graphics, a proven, easy to learn, but difficult to master set of rules surrounded by an engaging plot and challenging gameplay, the game will appeal to newcomers and hard-core gamers alike.
Also available is unlimited access and infinite possibilities to mod the game through open data structure, open scripts and an easy-to-use editor.
Media
Should Run On