Formula 1 2010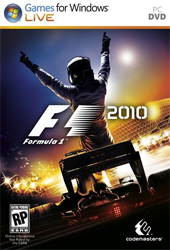 Minimum:
OS
: Windows XP/Vista/7
DirectX
: 9.0c
Processor
: 2.4GHz (Duel Core)
RAM
: 1GB(XP), 2GB(Vista/7)
Hard Drive
: 12.5GB
Video
: 256MB
Shader
: 3.0
Jump To Should Run On

Release Date:
22 September 2010
Links: Official Site
Description
The following description was taken from Here
Discover what it's like to sit behind the wheel of the world's greatest cars as you race wheel to wheel on all 19 circuits from the 2010 FIA FORMULA ONE WORLD CHAMPIONSHIP™ calendar, beautifully realised and in full HD.
Prove yourself worthy of being the team's number 1 and gain the ability to direct the development of your car. Work with your Race Engineer to customise a huge range of vehicle variables and eek every last ounce of performance from the car, or leave the detailed decisions to your experienced support team and head straight out onto track.
Master the iconic twisting streets of Monaco, thrill at the high speed of Monza, and overcome the challenge of a floodlit night-race at Singapore to beat your rivals and take the FORMULA ONE crown in one of the most beautiful and involving racing games to date.
Make your own career choices; starting at the bottom and working your way up the ranks, or stick with your favourite team and lead them to glory. Impress other teams by beating legendary drivers such as Schumacher, Hamilton, Button and Alonso. Interact with the media to raise your profile and press your point home, then negotiate contracts with new teams via your Agent.
Media
Should Run On
See Also
Formula 1 2010
Formula 1 2011
Formula 1 2012