FIFA 12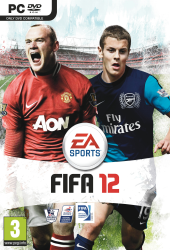 Minimum:
OS
: Windows XP/Vista/7
DirectX
: 9.0c
Processor
: 1.8GHz (Duel Core)
RAM
: 1GB(XP), 2GB(Vista/7)
Hard Drive
: 6.5GB
Video
: 256MB
Shader
: 3.0
Jump To Should Run On

Recommended:
OS: Windows XP/Vista/7
DirectX: 9.0c
Processor: 2.66GHz (Duel Core)
RAM: 3GB
Hard Drive: 8GB
Video: 512MB
Shader: 3.0


Release Date:
27 September 2011
Description
The following description was taken from Here
FIFA 12 brings to the pitch the game-changing new Player Impact Engine, a physics engine built to deliver real-world physicality in every interaction on the pitch. Experience the way real-world footballers challenge each other for the ball, win possession, and test each other physically. Enjoy an infinite variety of natural and believable outcomes in every collision. Players feel more resilient, push and pull during the fight for possession, and recover from light challenges more easily.
Revolutionary gameplay innovations make FIFA 12 deeper and more engaging. All-new Precision Dribbling creates a higher fidelity of touch on the ball for better control in tight spaces, more time to make decisions on attack, and more control over the pace of the game. Innovations in attack are balanced by a re-designed defending mechanism, making it as skilful and meaningful as real-world football. With all-new Tactical Defending, positioning and intercepting passes are as important as tackling. Tactics and timing are crucial. Plus, CPU players have been infused with Pro Player Intelligence, a self-awareness that enables them to behave and make decisions based on their own skills and tendencies, and gives them the aptitude to understand the strengths and weaknesses of teammates in every situation.
Media
Should Run On
See Also
FIFA 97
FIFA: Road to World Cup 98
FIFA Football 2002
FIFA Football 2003
FIFA Football 2004
FIFA Football 2005
FIFA 06
FIFA 07
FIFA 08
FIFA 09
FIFA 10
FIFA 11
FIFA 12