Dungeons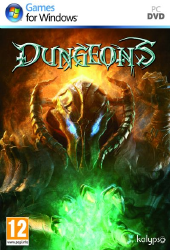 Minimum:
OS
: Windows XP/Vista/7
Processor
: 2GHz (Single Core)
RAM
: 2GB
Hard Drive
: 2GB
Video
: 256MB
Shader
: 3.0
Jump To Should Run On

Release Date:
27 January 2011
Links: Official Site
Description
The following description was taken from Here
In Dungeons, our protagonist falls victim to a devious plot hatched by his vile, nasty and thoroughly vicious ex-girlfriend and finds himself at the bottom of the underworld hierarchy and the top of the dungeon pile which in this world is about as bad as it can get.
Our Lord must have his revenge, and make his way back down the dungeon levels to his rightful place - but first he must deal with his new bosses, the three despicable Dungeon Lords who stand in his way.
Revenge will be sweet indeed.
Media
Should Run On
See Also
Dungeons
Dungeons: The Dark Lord
Dungeons 2