Deus Ex: Invisible War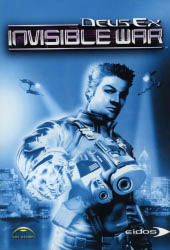 Minimum:
OS
: Windows 98/2000/XP
DirectX
: 9
Processor
: 1.5GHz (Single Core)
RAM
: 256MB
Hard Drive
: 2GB
Video
: 64MB
Shader
: 1.0
Jump To Should Run On

Release Date:
2 December 2003
Links: Demo
Description
Fast-forward seventy years. The world is at war and terrorism is the weapon of choice. There is no clear ally, no single enemy.
When an attack wipes out Chicago, you must make significant choices: Who should you trust? Who should you fight? Every decision you make affects the outcome and creates a unique game experience.
Multiple solutions provide multiple ways to play. Use action, shooting, adventure and stealth to complete missions and experience the unique world of Deus Ex.
Media
Should Run On
See Also